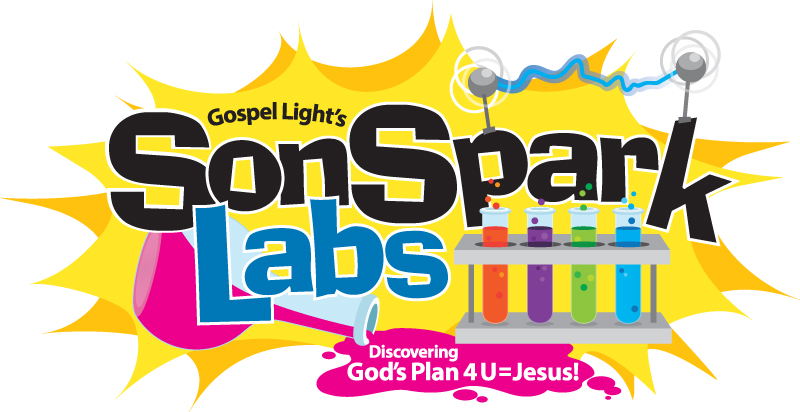 Vacation Bible School
June 22-26 2015 from 6-9 pm.
Lasers! Gyroscopes! Telescopes! Fusion, Fission and chemical reactions!
At Son Spark Labs, explorers of all ages will find their imaginations spark to life as they research answers to universal questions by delving into the shadows of the ancient past, exploring scientific wonders of the present and even searching beyond - to an infinite future! The fun begins as you step into this astonishing world of God's Plan for the people of His planet!!
Each session focuses on one aspect of God's Plan for you = Jesus!, or GP4U=J!, as revealed through God's Word. Young Scientists will participate in experiments and hands-on activities that help them get to know Jesus and God's plan of salvation.
This summer, children will excitedly explore the amazing SonSpark Labs. They will trace God's life-changing plan as it's revealed from Creation to the present and on into the future. They'll find answers to life's most important questions. They will discover that God loves them and that through Jesus they can be members of God's family and personally experience God's plan for each of us.
AWANA - Approved Workmen Are Not Ashamed
Be diligent to present yourself approved to God, a worker who does not need to be ashamed, rightly dividing the word of truth.
A Major part of our children's ministry is AWANA Clubs
Awana helps churches and parents work together to develop spiritually strong children and youth who faithfully follow Jesus Christ. Our programs offer a proven approach for evangelizing and discipling kids in the church and community.
As a ministry leader for 60 years, Awana is making an impact. A recent national survey found Awana to be as important to our alumni's spiritual foundation as all other church activities combined. Among alumni who participated in our programs for at least six years, 92.7 percent still attend church at least weekly as adults!
Each week, more than 1.5 million kids ages 2 to 18 participate in Awana. Over 12,000 churches in the U.S. and more than 10,000 internationally run Awana programs that change young lives through biblical truth.
Cathy Stine, Greg Holland and Gayle Renfro

, AWANA Directors